Had a great surprise surf yesterday evening. After we tucked in our little girls my wife let me sneak off to the beach. To travel light and fast i packed only the essentials on my bike (suit, fins, handboards, towel) and took off.
It was windy, but still with a lot of sunshine and the 8 mile ride to the beach was a treat. The first part is through farmland and the second throug a beautifull pine forest.
When i got at the beach the waves seemed small at first, but the shorebreak turned out to be really nice: i managed to squeeze myself in the tiny barrel a few times (only to have the wave close out on me of course ;)) Great!!
I was the only one in the water (which happens a lot when you surf early in the morning or a bit later in the evening) wich always feels special to me: it is like you tickle this great being, which then opens one eye to see what is up and then goes on doing it's thing.
The nice thing about surfing alone is that you are a lot more sensitive to what goes on in the water around you, and that was quite a bit tonight: tiny fish were jumping out of the water, and where preyed on by the seabirds, and by bigger fish from below (you could see them in the waves sometimes). The bigger fish were probably hunted by the seals. I didn't see them, but i saw some suspicious bubbletrails :D
After a bunch of very nice waves and some great swimming i said thanks to the sea, got a coffee and rolled home. Great night!
packed bicyle: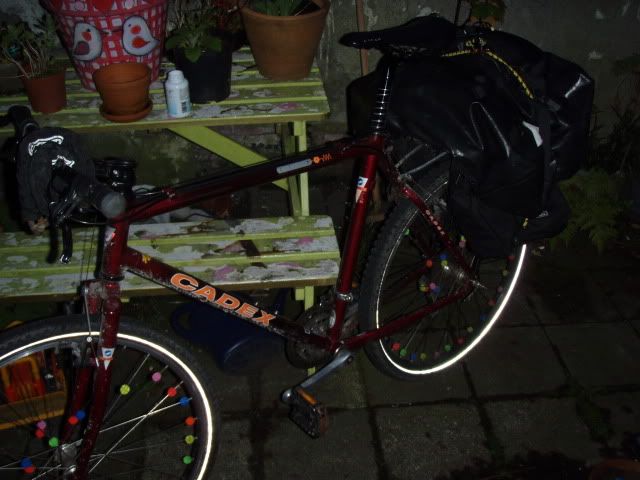 my surfing essentials: suit, handboard, and fins (my new kapalo's from brazil):